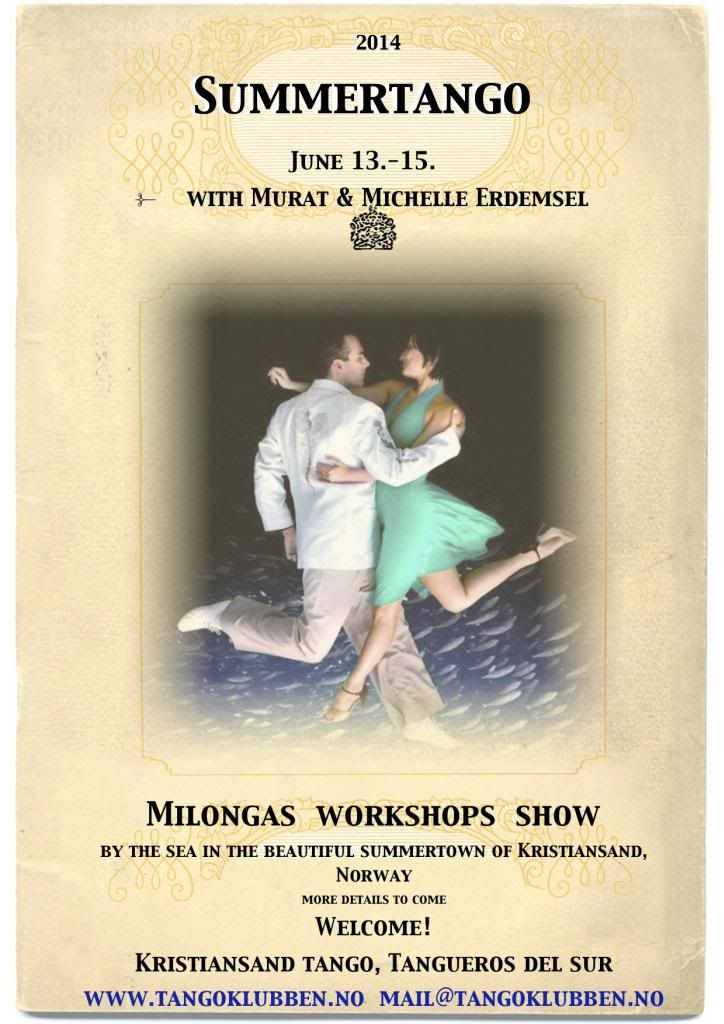 Program
Workshop level: intermediate ++
Friday, June 13
18:00-19:30 Murats popular Musicality lecture with projector
19:30-21:00 Musicality workshop with Murat and Michelle
21:00- 03:00 Milonga, DJ Pared de Piedra, Bergen
24:00 Night meal
Saturday, June 14
11:30-13:00 Movement 1
13:30-15:00 Waltz 1
15:00-17:30 Afternoon milonga/beach milonga? with DJ Svein Walle, Kristiansand
18:00 Dinnertime! Sign up for Restaurant Pieder Ro within June 1st.
20:30-04:00 Milonga, with DJ Anders Båtstrand,Oslo
23:30 Show with Murat and Michelle Erdemsel
24:00 Night meal
Sunday June 15
11:30-13:00 Movement 2 workshop with Murat and Michelle
13:30-15:00 Waltz 2 workshop with Murat and Michelle
15:00- 19:00 Afternoon milonga DJ Berit Myrvang, Kristiansand
Prices:
Package prices (all workshops, milongas, show, nightmeals): kr. 1250,- for members of TdS (membership: kr.350,-) kr. 1450,- for non-members
Pr 1 1/2 hours workshop: kr. 200/kr. 250
Friday milonga with night meal kr. 80/kr. 100 (can be paid on-site)
Saturday afternoon milonga kr. 40/kr. 50 (can be paid on-site)
Saturday night milonga with show and night meal kr.120/kr.150 (can be paid on-site)
Sunday afternoon milonga kr. 40/ kr. 50 (can be paid on-site)
Fruits, nuts and chocolate snacks available.
Saturday dinner: We book a large table/room at the Restaurant "Pieder Ro" at the harbor, ten minutes walk from the tango venue. Please sign up for this within June 1(You order and pay yourself for this dinner at the table.)
Adress for Summer tango venue: Tangen 11, Kristiansand, Norway
Accomodation: We will try to find private accomadation for as many as possible.
Registration via e-mail to mail@tangoklubben.no